Providing Quality Pet Care Since 1976
Effective April 1, 2022: We will be charging a

Missed Office Visit Fee

(per scheduled pet) if we are not notified within 24 hours prior to your scheduled appointment.
COVID-19 Protocols

We Care About You and Your Pet's Health and Safety
🐾We are now Welcoming our Clients and Patients into the Building.🐾

🐾Masks are worn at your own discretion.🐾
Upon Arrival, Please bring your pet(s) into our Lobby and Check-In with our CSR's.
IF YOU WOULD PREFER A CURBSIDE APPOINTMENT:

🐾 Please call the office at 269-668-3307 to Check-In. A staff member will come out to your car to retrieve your pet and bring him/her inside the building to be examined by the Veterinarian. We ask that cats be brought to MAH in a carrier. For our canine patients, we will utilize our slip leashes for transport between your vehicle and the clinic. These slip leashes are used only once daily per pet and are disinfected each night.


🐾 A Veterinarian will then call you to further discuss your pet's symptoms, medical history etc to determine the best treatment plan.


🐾 Once all diagnostics and treatments are completed, a Customer Care Representative will call you to collect payment via credit card and your pet will be brought back to you with any medications that are needed.
We know that being separated from your pet can be uncomfortable.
As always, we continue to treat your precious pet with Love, Respect, and Care. 💙💜
MEDICATION REFILLS AND FOOD PURCHASES:


🐾 If needed, please call the office and we will provide curbside service to bring your products out to your vehicle.
🐾 You may also utilize our online pharmacy for home delivery- VETSOURCE Pharmacy
🐾 🐾 🐾

Thank you - MAH Veterinarians and Team
---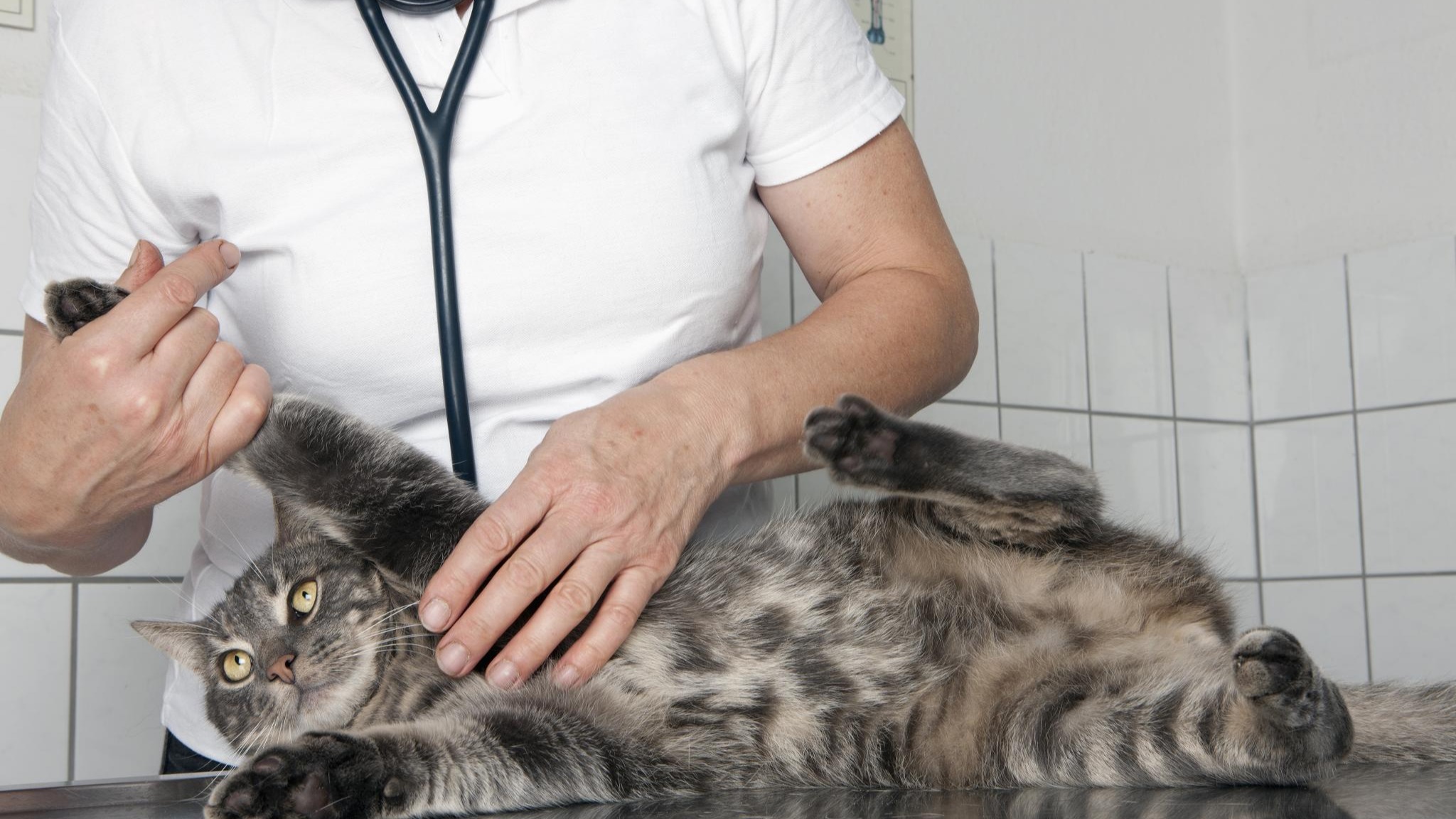 Dr. Thomas Griffiths
Dr. Thomas Griffiths was born and raised in Eastern Michigan. He attended Morehead State University in Kentucky and then moved back to Michigan to complete his Bachelor's Degree in Zoology at Michigan State University. He continued on at MSU to obtain his Doctorate in Veterinary Medicine in 1967. Shortly after, Dr. Griffiths got married and had four children, all of whom still reside in the southwest Michigan area.
In 1976, Dr. Griffiths founded Mattawan Animal Hospital. Dr. Griffiths became certified in Veterinary Acupuncture through the International Veterinary Acupuncture Society. He currently utilizes acupuncture as a complement to traditional Western Medicine.
Dr. Griffiths has numerous hobbies including woodworking, traveling, exercise, reading and Spanish culture.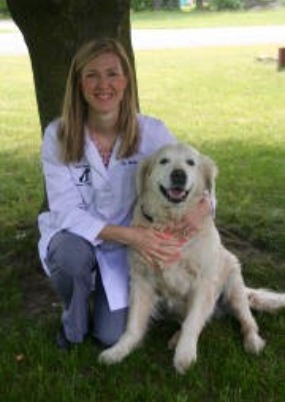 Dr. Christine Williamson
Dr. Christine Williamson was raised in Southwest Michigan. She obtained her Associates Degree in Chemistry from Kalamazoo Valley Community College. In 1992, she transferred to Michigan State University where she pursued a Bachelor's Degree in Physiology. She completed the Physiology Degree in 1995 and then a Post-Baccalaureate Degree in Education in 1998.
Dr. Williamson and her husband lived in Lansing while she attended Michigan State University's College of Veterinary Medicine. After she graduated in 2002, the couple moved to Southwest Michigan where Dr. Williamson began her fulfilling career at Mattawan Animal Hospital.
Since that time, the family has increased to include children, a Golden Retriever, a cat, rabbits and chickens. Dr Williamson enjoys spending time with friends and family, reading, aerobics, running, and gardening.

Dr. Calli Paul
Dr. Paul's desire to become a veterinarian began at a young age in Wabash, IN, where she is originally from. She pursued her dream by attending the University of Findlay and continued on to receive her Master's Degree in Animal Physiology from West Virginia University. In 2019, she completed her studies to achieve her DVM at Michigan State University. While Dr. Paul enjoys all aspects of veterinary medicine, she has a particular interest in internal medicine, endocrinology, and feline medicine. Her hobbies include gardening, doing puzzles, and cake baking/decorating. In her free time, she enjoys reading and listening to classic rock.

Dr. Taylor Gardner, Fear Free Certified
Dr. Gardner grew up in Adrian, MI and received her undergraduate degree with honors in Biology and Chemistry from Eastern Michigan University. She then graduated in 2019 from the College of Veterinary Medicine at Michigan State University. She received her Fear Free Certification in 2019. After graduation from veterinary school, Dr. Gardner moved north to practice in Tawas City, Michigan for a year and a half before returning to Southern Michigan to practice at Mattawan Animal Hospital. She has a special interest in fear free medicine, preventative pet healthcare, client education, and surgery. In her spare time, Dr. Gardner enjoys spending time with friends and family, reading, boating, ATVing, traveling, gardening, and spending time with her pets.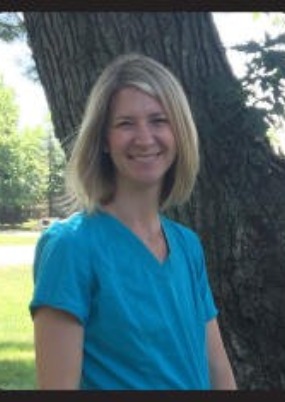 Cathy, Practice Manager
Cathy enjoys the satisfaction of knowing that the veterinarians and staff of Mattawan Animal Hospital are helping care for, treat and prevent medical issues. She finds the human-pet bond truly amazing! Working at MAH over many years - beginning as a teenager, through her college years at Michigan State University and up to today - has demonstrated her love for the job. As practice manager, she appreciates how every individual staff member works together to create an energetic, fun and creative team, along with a "family" feel. Enjoys spending time hiking, rock climbing and fishing with her busy family - and her even busier Golden Retriever, Patty.

LICENSED VETERINARY TECHNICIANS
Kristen, Lead LVT, Fear Free Certified
Kristen can never picture herself working outside of the veterinary medicine field! She is a graduate from Penn Foster College and also has a Bachelor's Degree from Purdue University. Kristen began her career at MAH in 2004. She has a special interest in client education involving Diabetes and Animal Separation Anxiety. Loves German Shepherds and has a special place in her heart for our surgical and geriatric patients. Enjoys time with her family/friends, and making people laugh. Always a Chicago girl at heart - Let's Go Cubbies, Let's Go!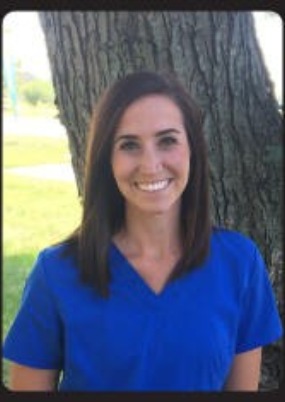 Kaitlyn, LVT
Kaitlyn is a graduate from Baker College. She also has a Bachelor's Degree in Business from Western Michigan University. She started working at MAH in June of 2016. Kaitlyn has a love for all creatures, especially her three dogs, Oscar, Porter and Oso. Enjoys going to the beach, kayaking, hot yoga, and being outside with her husband.

Victoria, LVT
Victoria was born and raised in Akron, OH where she earned a Bachelor's Degree in Biology in 2013 from the University of Akron. In 2017, she received her Veterinary Technology Degree from Satuzenburger College and then moved to Kalamazoo. Victoria joined the MAH team in October of 2019. She enjoys dental cleanings and cytology work. When not at work, Victoria enjoys traveling, being outdoors with her husband, hiking, cooking, boating, and yoga.

Tori, LVT
Tori joined the Mattawan Animal Hospital team in 2022. She has always resided in the Southwest Michigan area, aside from the 3 years she lived in Lansing obtaining her degree at Michigan State University. She graduated from MSU in 2019, but has worked professionally in veterinary medicine since 2013. Tori spends her free time reading, writing, and tending to her "zoo", which includes 2 dogs (German Shepherd mixes), cats, chickens, fish, and lizards.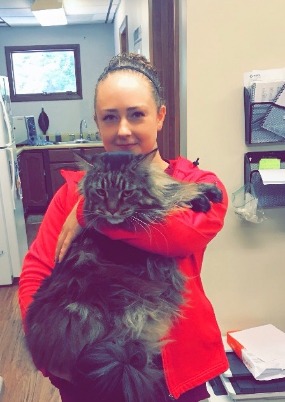 Natalie
Natalie has always known she wanted to love and care for animals since a very young age. She graduated from Mattawan High School in 2015 and continued her education at Ross Medical Education Center. Natalie graduated with a Veterinary Assistant certificate in 2016. She has three fur babies at home, one dog, Pepper, and two cats, Gypsy and Merlin. Natalie enjoys horse back riding, camping, fishing, spending time with friends/family, and of course, spending time with her pets.

Brandi
Brandi has been a lover of all animals since a very young age. She has a special love for Golden Retrievers and has been a foster mom for Great Lakes Golden Retriever Rescue since 2010. She loves rehabilitating dogs so that they can find their perfect forever home. At home she has Finley, Baxter and a foster dog named Ellie, that has become a permanent member of their family. She absolutely loves being a member of the MAH team and feels she has found her perfect job and calling in life. Outside of work she loves spending time outdoors in her garden and time with her family.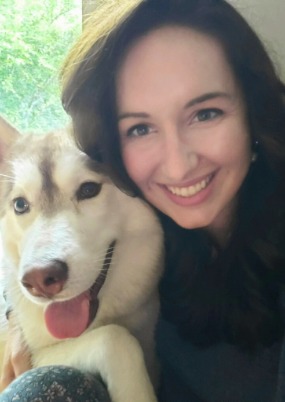 Autumn
Autumn has always had a passion for animals and their welfare. While growing up, her family fostered and rescued quite a few pets. She knew early on that the career she chose needed to make an impact. Autumn has a strong interest in wildlife rehabilitation and volunteers when she can. She is currently studying Biology at WMU, as well as pursuing her Veterinary Technician Degree through Penn Foster. At home, she has two cats as well as a talkative husky. Outside of work, Autumn enjoys baking, reading, painting, and yoga.
Eva
Eva was born and raised in Kalamazoo, Michigan. She obtained her Bachelor's Degree in Biomedical Science from Western Michigan University in 2019. Eva has always loved animals and loves being part of the awesome team at Mattawan Animal hospital! When not working, she enjoys reading, gardening and spending time with friends and family.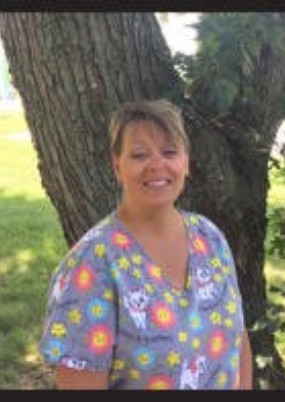 Becky, Lead Client Coordinator
Becky has fifteen plus years experience under her belt in many facets of the veterinary medicine field. Her pets, Roscoe, Lilly, Sophie, Hannah, two geckos and twelve fish keep her very busy! She always looks forward to working with all the "furry, huggable, lovable" animals. She finds it very rewarding to help sick animals become well again. Interacting with MAH's many wonderful clients make her day! Enjoys scrapbooking, bowling with her husband, paintball and playing with her children.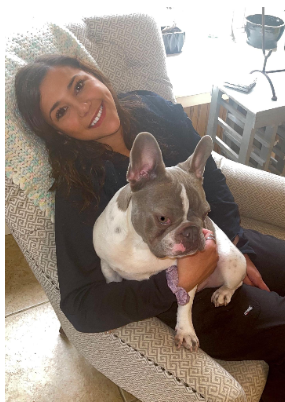 Elena
Elena has three younger sisters and grew up in a house full of animals. Joining our staff seemed like the perfect place to utilize all of her learned skills from her youth. Family is a top priority for Elena, so much so in fact, that shortly after being hired in November of 2019, she was able to convince her sister, Eva, into joining the team. Elena's favorite part of the job is being a reassuring presence for owners in times of uncertainty. When she isn't at work, you can find Elena working on multiple knitting projects, or walking one of her three dogs, Hobson (who if you're lucky, you might see accompanying her around the office). MAH has become a second home to Elena, and she can't wait to greet you with a smile and meet your furry friends when you come in.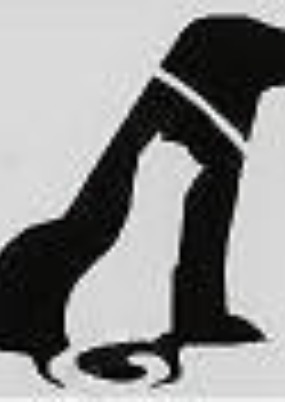 Katie
Katie is a lifelong animal lover who worked with animals prior to joining our team. She loves horses, chickens and especially her cat Caboose. Katie was born in Chicago and moved to Michigan 7 years ago where she continued working at a horse barn and also as a youth leader at a church. Katie enjoys spending time with her children, baking and DIY projects. She is extremely organized and detail oriented, which allows her to lend a hand wherever she is needed. She also has a wonderful sense of humor and a contagious laugh. Her favorite thing about working at MAH is being a part of our close-knit team, although petting each animal that walks into the building is a close second. Katie's smiling face and cheerful attitude will make you feel welcome as soon as you walk through the door.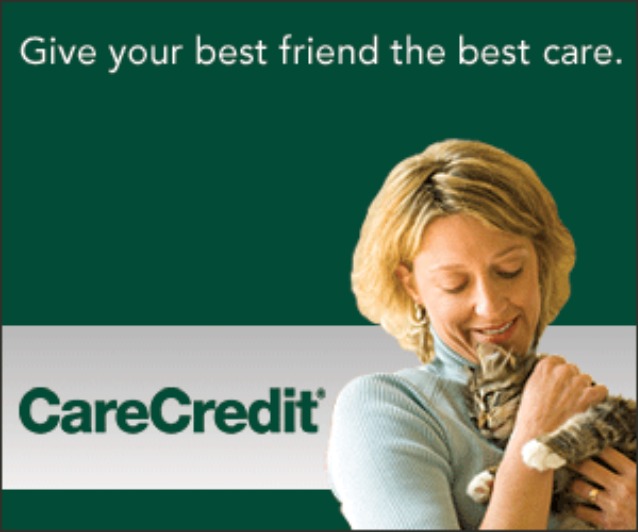 We're pleased to offer our clients
CareCredit® Convenient Monthly Payment Plans.
With CareCredit you can say "yes" to the best treatment for your pet immediately, and pay for it over time with low monthly payments that fit easily into your budget.


Veterinary Information Network (VIN) is the world's largest and most trusted on-line veterinary database and community.
You will find information about your pet's health, safety, medication, therapies, surgery and behavior all at your fingertips.
Our veterinarians may direct you to VIN in order to provide you with more in depth detailed information concerning
your pet's health condition or diagnosis.
PET POISON HOTLINE
1-855-764-7661
How to Safely Remove a Tick from Your Pet
Wear latex gloves to protect yourself. Use a pair of sharp-pointed tweezers or specially-designed tick removal tweezers to grasp the tick at the point of attachment. This should be done as close to the skin as possible.

Be very careful not to squeeze the body of the tick.

Pull the tick straight out from the skin slowly and steadily using even pressure - without twisting or turning. Some of your dog's skin may come off with the tick. This is normal. If bleeding occurs, apply light pressure to the area.

Once removed, the tick should be handled carefully. While some prefer to dispose of the pulled tick, saving the tick for further identification is a good idea. You may want to place the tick in a small airtight container. Some rubbing alcohol may be added to the container. Label the container with the date and store in case future illness occurs, as identification may become necessary.

If part of the tick's head still appears to be embedded, use the tweezers to gently pull it out.

After the tick is removed, clean the bite area with mild soap and water. Keep an eye on this spot for several days in case of further irritation or infection. If the area does not clear up in a few days or if you have any concerns or questions, please contact MAH at 269-668-3307 and we'll be happy to assist you!
Tips:
Do NOT use a match or other materials to try to smother the tick or get the tick to 'back out'. This does not work, and may cause the tick to regurgitate more saliva (and potential pathogens) into the skin.
Use a Flea/Tick repellent product on your pet. MAH can help you find a product right for your pet's needs.
Check your pet daily, especially in the spring when ticks are most common.
Discuss your pet's risk assessment of Lyme Disease and the annual Lyme Disease vaccination with one of MAH's veterinarians or staff.
Laboratory Testing


Blood chemistry and electrolyte panels as well as complete blood counts can often be performed during your appointment. These tests are important in evaluating organ systems and blood cell responses. These panels are often performed prior to anesthesia/surgery, to monitor a chronic medical condition, or when your pet is acutely ill. We also offer a variety of other blood tests performed in-house as well as access to Michigan State University and IDEXX labs.
Digital Radiography


Radiographs ("x-rays") are often taken during your pet's appointment to assess the medical and surgical needs of your pet. They are processed in a timely manner so that the veterinarians can discuss optimal treatment with you at the time of your pet's appointment.

Ultrasonography


Ultrasound is another useful diagnostic tool to non-invasively assess the health of your pet's internal organs.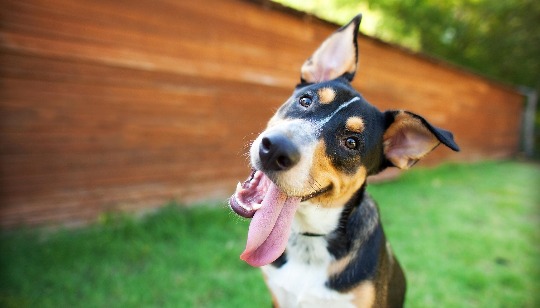 Dental


Dental care is an essential part of the overall health of your pet. While under anesthesia, your pet receives a complete oral exam. The teeth are probed, scaled and polished, a dental chart is completed, and x-rays are taken as needed. Once the x-rays are reviewed, oral surgery may be needed to remove abscessed, worn or broken teeth. Advanced cases needing endodontics, such as root canals, may need to be referred to a local specialist.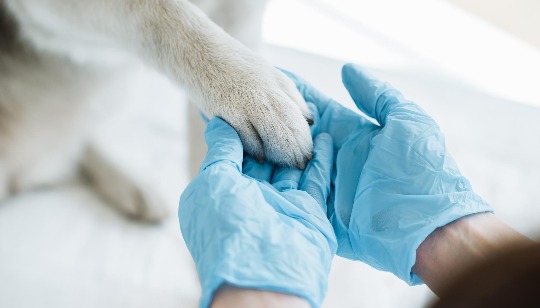 Anesthesia Monitoring


Any anesthetic and surgical procedure involves some level of risk. In order to monitor the patient as carefully as possible, we utilize a pulse oximeter that measures the blood oxygen level during surgery. A Licensed Veterinary Technician also carefully observes heart and respiratory rates as well as blood pressure during surgery.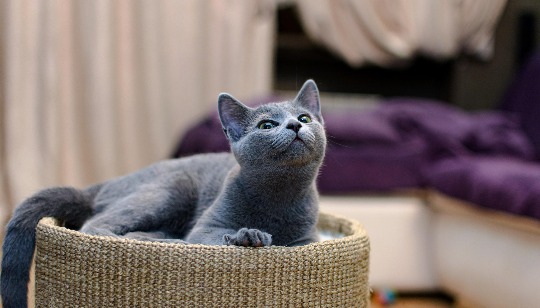 Laser Surgery


It has been suggested that laser surgery results in less bleeding, less pain and faster recovery times.
HOURS OF OPERATION
Monday - Friday: 7:30am - 5pm
Saturday: 8am - 12pm

269-668-3307
Fax: 269-668-3793
mattawananimalhospital@hotmail.com